Message from President
Creating good human resources
with a distinctive feature in Oita University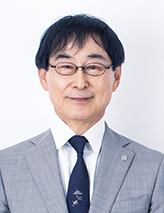 In October 2003, the former Oita University and Oita Medical University combined to become the present-day Oita University. Six months after, Oita University was incorporated as a National University Corporation. Since then, while we carried out reorganization of governance, as a part of effort to reinforce institutional function, we carried out the subsequent reorganization; establishment of the Faculty of Welfare and Health Science, reorganization of the Faculty of Education, establishment of the graduate school of Professional Master's Program reorganization of the Faculty of Science and Technology, establishment of Department of Enterprise and Social Innovation in the Faculty of Economics.
Therefore, Oita University currently has 5 faculties and also has 5 graduate schools.
A university should serve the society as a higher education organization, education reform should always be an important issue to be tackled. Oita University, like many others, has been making the utmost efforts to improve its quality of education. We improved the quality of education by promoting the ability of the teaching staff, rearranging the student advisory system, and developing the students' career educational programs.
On the research front, Oita University has made much progress in its research field. The projects in its three core domains‒ "Welfare Science" , "Human Environment Science" and "Life Science" were reviewed and systematized. Since our staff has been involved in various big joint research projects, Oita University steps up research and fosters the development of young researchers.
By promoting the collaboration between university and society, we encouraged the creation of many core new project, which allow us to obtain grants for research and important project. We enhance the partnerships with our local government and regional companies. Oita University has resolved issues confronting the community by utilizing accumulated knowledge. We have also tried to support our area-based industry and provide for research in our community-based study.
As for international activity, we could gracefully accept foreign students. Our university also established University Consortium of personnel training support for Endoscopy and Laparoscopic Surgery in Asia and actively support development of medical human resources in Asia and Russia, etc. We will further expand our international activities as a leader of the group.
Oita University Hospital has played a leading role in Oita region for a long time. At the same time, we have taken on an increasingly important role to nurture future medical manpower. Since environment surrounding the medical care has been changing so rapidly, we require to responding to highly developed, specialized, computerized medical consultation. Moreover, we improve the quality of education in a medical school and work to foster human resources contributing our community medicine.
Oita University hopes to meet the changing demand in society with new wave of social action. At the highest level possible, not only we cope with a diversity of challenges, but also we intend to develop our university and human resources. Thank you very much.
President