Faculty of Medicine /
Graduate School of Medicine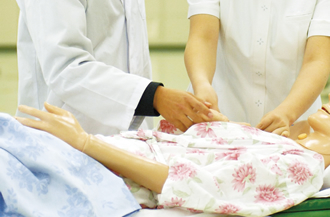 Faculty of Medicine consists of two schools: School of Medicine and School of Nursing. The purpose of the School of Medicine is to educate students to be doctors with a well-defined sense of culture and humanity, a high degree of academic knowledge, motivation to continue lifelong learning, and a broad international scope so as to use a holistic approach to medicine by understanding patients and their problems. On the other hand, the purpose of the School of Nursing is to covey professional knowledge and to demonstrate techniques, which enable students to maximize their nursing practice, so that they may provide patients with a healthy life, both physically and mentally. In addition to this, we educate our students to be nurses with rich humanity so that they may contribute to the progress of nursing and improve health, medical ca re, and human welfare of the world as well as those of the world.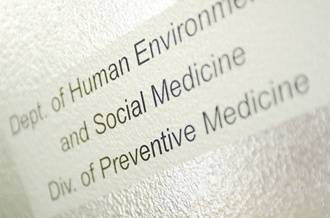 We presently promote and practice various kinds of revolutions and improvements in terms of academic curricula. For example, at the School of Medicine, we have shifted the course requirement from disciplinebased method organized by medical departments into competency-based integrated education of liberal arts, basic medicine and clinical medicine in order to deal with the dynamic and rapid improvement of modern medicine and medical needs with the change of the social structure. We also promoted problem-based and community-based learning to progress and expand clinical clerkship. The fundamental revolution in the School of Nursing is the integration and reorganization of basic, professional basic, and professional advanced subjects. Also diverse trials for deepening students' understanding for "nursing" have been practiced in internship programs to foster nursing staff that can contribute at the clinical stage.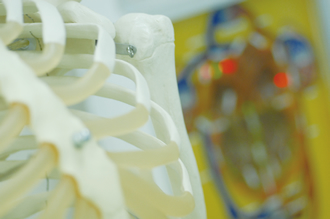 Graduate School of Medicine is composed of Master's Program and Doctoral Program. The Doctoral Program has one professional courses. In this course there are four categories of classes ; Fundamental research, Clinical research, Cancer research and Compulsory elective. The main purpose of the Doctoral Program is to foster a medical research professional or a clinician of high quality. While, Department of Medical Science and Department of Nursing Science make up the Master's Program. The purpose of the Department of Medical Science is to foster an educational, research and technical professional, who can take an active role in the area into which medical and other scientific fields are integrated. The purpose of the Department of Nursing Science is to foster a highly professional nursing staff and nursing educational professional, who possess broad professional knowledge and viewpoints on medicine.
Faculty of Medicine
Departments
Courses

School of Medicine

Basic Medicine

Anatomy
Matrix Medicine
Public Health and Epidemiology
Molecular Ethics
Molecular Pathology
Environmental and Preventive Medicine
Neurophysiology
Microbiology
Pathophysiology
Infectious Disease Control
Forensic Medicine
Cell Biology
Pharmacology
Biomedicine
Biomedical Chemistry
Biophysics
Social and Clinical Psychology
Medical English Education

Clinical Medicine

Endocrinology, Metabolism, Rheumatology and Nephrology
Clinical Pharmacology and Therapeutics
Otolaryngology & Head and Neck Surgery
Respiratory Medicine and Infectious Diseases
Gastroenterological and Pediatric Surgery
Obstetrics and Gynecology
Anesthesiology and Intensive Care Medicine
Neurology
Thoracic and Breast Surgery
Medical Oncology and Hematology
Cardiovascular Surgery
Comprehensive Surgery for Community Medicine
Emergency Medicine
Cardiology and Clinical Examination
Neurosurgery
Oral and Maxillofacial Surgery
Gastroenterology
General Medicine
Orthopaedic Surgery
Neuropsychiatry
Dermatology
Diagnostic Pathology
Pediatrics
Urology
Medical Informatics
Radiology
Ophthalmology
Pharmacy
Biostatistics
Medical Safety Management

Contribution

School of Nursing

Fundamental Nursing Sciences

Health Sciences
Psychiatric and Mental Health Nursing
Fundamental Nursing
Community Health Nursing

Practical Nursing Sciences

Maternal Nursing
Adult Nursing
Pediatric Nursing
Gerontological Nursing
Graduate School of Medicine
| Courses | Majors |
| --- | --- |
| Master's Program | Medical Science / Nursing Science |
| Doctoral Program | Philosophy in Medical Science |