Message from President
No Reform, No Future!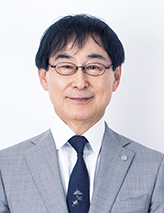 Oita University was established under a new system in 1949, consisting of the Faculty of Liberal Arts and Sciences (currently the Faculty of Education) and the Faculty of Economics, and was integrated with Oita Medical University in 2003. Now it consists of 5 faculties (Education, Economics, Medicine, Science & Technology, and Welfare & Health Science) and 5 graduate schools (Education, Economics, Medicine, Science & Technology, and Welfare & Health Science), and it has about 5,600 students studying on both Dannoharu and Hasama campuses. In September of this year, we held a ceremony and reception to celebrate Oita University's 70th anniversary.

 Our country has recently faced many challenges, such as the declining birthrate and aging population, environmental issues, and disparities between urban and rural areas, and national universities also face new challenges. To meet these new challenges, in April 2016 we added our first new faculty in 44 years, the Faculty of Welfare and Health Science. At the same time, we reorganized the Faculty of Education and Welfare Science into the Faculty of Education. Finally, in April 2017, we reorganized the Faculty of Technology into the Faculty of Science and Technology.

 In addition, to address our regional challenges we are developing the "Center for Education and Research of Disaster Risk Reduction and Redesign (CERD)," the "Organization for Diversity Management," and the "Center of Community Plus."

 In the medical field, to strengthen the functions of our university hospital, we established the "Advanced Trauma, Emergency and Critical Care Center," developed an enhanced "Cancer Genome Medical System," and founded the "Comprehensive Patient Support Center for Community Care." We also promote international human resources in medical fields to deepen human exchanges in Asia, Russia, Middle East and North Africa through the University Consortium for Development of Endoscope and Laparoscopic Surgery in Asia (UCDELSA), which was launched under the leadership of our university.

 Moreover, to pioneer the creation of a smoke-free environment, smoking was banned on the entire campus in April 2011, and since April 2012, we have been disseminating the "Declaration for Promotion of No-Smoking in Oita University." In September 2014, we started providing free smoking cessation treatments at the Health Care Center, and we enacted "Regulations on Prevention of Secondhand Smoking of Officials" in May 2016. Finally, in March 2019 and laying out "Basic Policy to Preferentially Hire Non-Smoking Faculty Members." We will continue to maintain a smoke-free environment on our campus and to promote a healthy and active lifestyle for the entire tenure of our teachers and staff members.

 The "National University Reform Plan," published by the Ministry of Education, Culture, Sports, Science and Technology in June 2019, shows the future direction of strengthening the functions of national universities from seven viewpoints including Education, Research and Regional Invigoration. Always keeping the slogan of "No Reform, No Future!" in our minds, we will promote further reforms to fulfill the missions of Oita University by developing human resources corresponding to the needs of regional communities, by improving our function as a center of community and knowledge, and by refining the strategic management and governance of our university to meet a new era.
President