Message from President
Oita Prefecture's intellectual center for developing
high-value human resources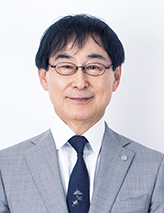 Oita National University became incorporated in 2003, half a year after the merger of Oita University and Oita Medical University. It is now an all-encompassing university with five undergraduate schools, five graduate schools, four affiliated primary and secondary schools, and a hospital, spread across three campuses.

 Education at Oita University is aimed at fostering individuals who are driven to serve community needs and who can utilize expertise with a global and inclusive perspective. We strive to achieve that aim by placing emphasis on high-level teaching skills, learning support, and an overall excellent quality of education.

 Our forte is conducting research that contributes to global development in cutting-edge fields, such as minimally invasive medicine and global infections. We administer cost-efficient research, and share the results of our research with local and international communities through academic papers and seminars.

 As the only national university in Oita Prefecture, we feel the responsibility to use our collective intellect and wisdom to support this community in solving problems and in creating a safe environment. In 2018, Oita University opened the Center for Education and Research of Disaster Risk Prevention and Redesign (CERD) so that industries, academia, and government can cooperate in preparing for future disasters.

 We understand the importance of preparing our students to interact with the global community. As such, we create opportunities to host international students in our community and to send our students abroad.
Oita University has built a framework for supporting international academic collaboration and for developing human resources. In 2016, we established and hosted the University Consortium for Development of Endoscopy and Laparoscopic Surgery in Asia (UCDELSA), and in 2018, the Institute for Global Education and Advanced Research was founded.

 In regard to medical care, we believe that our university hospital must continue to progress, innovate and evolve to remain consistent with changes in society and with the medical demands of the future.

 Going forward, we will continue the process of enhancing our foundation and organization as a state-of-the-art treatment hospital so that we can provide highly advanced medical care. In addition, we will pursue research and development in advanced medical care and medical technology, and we will educate medical staff with a strong sense of ethics, helping to improve medical care and welfare in the local region.

 Oita University encourages our students, staff and faculty to participate in the goal of achieving a diverse society. We strive to develop an environment in which anyone can teach, carry out research and work with confidence. Therefore, we provide equal opportunity for all faculty positions, we strive to increase the opportunity for women to conduct research, and we promote a healthy work/life balance through childcare and geriatric-care support.

 In the future, Oita University will continue to be a significant contributor to the advancement of our social system, and will continue to foster human resources who are prepared to meet the demands of our ever-changing society.
President